"Mary is a true gem, from whom I could not have been more privileged to learn. From the very first hour, it is immediately apparent that she sincerely cares about her students and their successes. She is immensely generous with her knowledge about the flower industry and the techniques you need to know to thrive within it, with her time and attention, kindness, and patience." ~ Francesca Teotico Howorth
START UP WITH DESIGN TFS FAST TRACK INTENSIVE 2023
Make this the year you realize your destiny, a lifetime abundant with the beauty of flowers
TFS FAST TRACK INTENSIVE 2023
(10 HOURS)
Our all new TFS fast track intensive has been specially designed for our students pin pointing certain projects essential to the industry.
We have selected projects best suited for a shorter, yet equally intense course.
We will begin with your foundation skills and move into more intricate designs project by project.
Our industry is rapidly changing and these projects have been carefully curated to give you the most impact in a shorter period of time.
Much time and effort has been put into our new space and program insuring the most positive and fulfilling experience for all our students.
As always our classes are small, while our flower selection is gorgeous, up to the minute and abundant!
"I had a friend recommend this course if I wanted to learn a good floral foundation in only 3 weeks! And I learned that and much more! Mary is an amazing florist and has an abundance of knowledge to pass on, from trends and style and tricks and tips, to Practical pricing and business smarts. Besides the classes being very fun and full of energy, one of the most valuable things is always having access to Mary when you need her." ~ Hilary Rigo
overview of TFS FAST TRACK INTENSIVE 2023
Remember, ALL floral and hard goods will go home with you at the end of every class.
Students will learn the most popular trends and flower and rose varieties. You will be presented with a power point sheet going over yearly availability of flowers as well as care and processing. In class 1 we will cover the "need to follow" florists, trend makers and influencers on social media as well as TFS alumni who have ventured into self-employment.
Students will be introduced to and familiarized with our preferred wholesalers with who you have immediate access with your tuition. You will learn wholesale pricing and bulk purchasing protocol.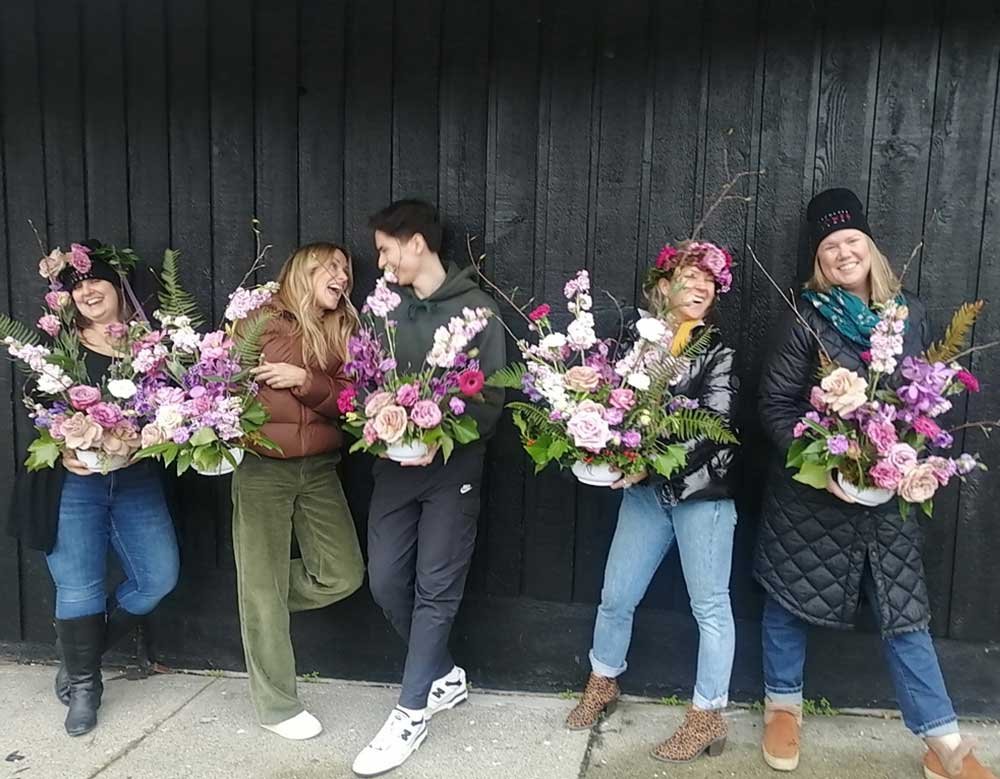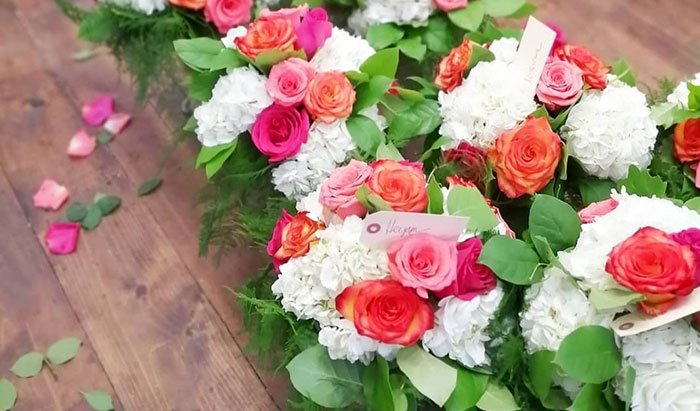 Project 1 will include a European hand tied bouquet focusing on muscle memory and technique. A vase arrangement demo will follow, learning proper tying and cutting techniques.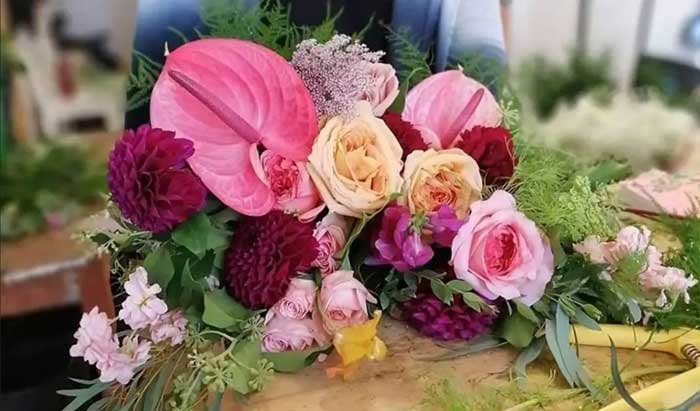 In project 2 students will make a Grand European tied bouquet of beautiful seasonal blooms. Students will focus on spiraling techniques and proper flower placement.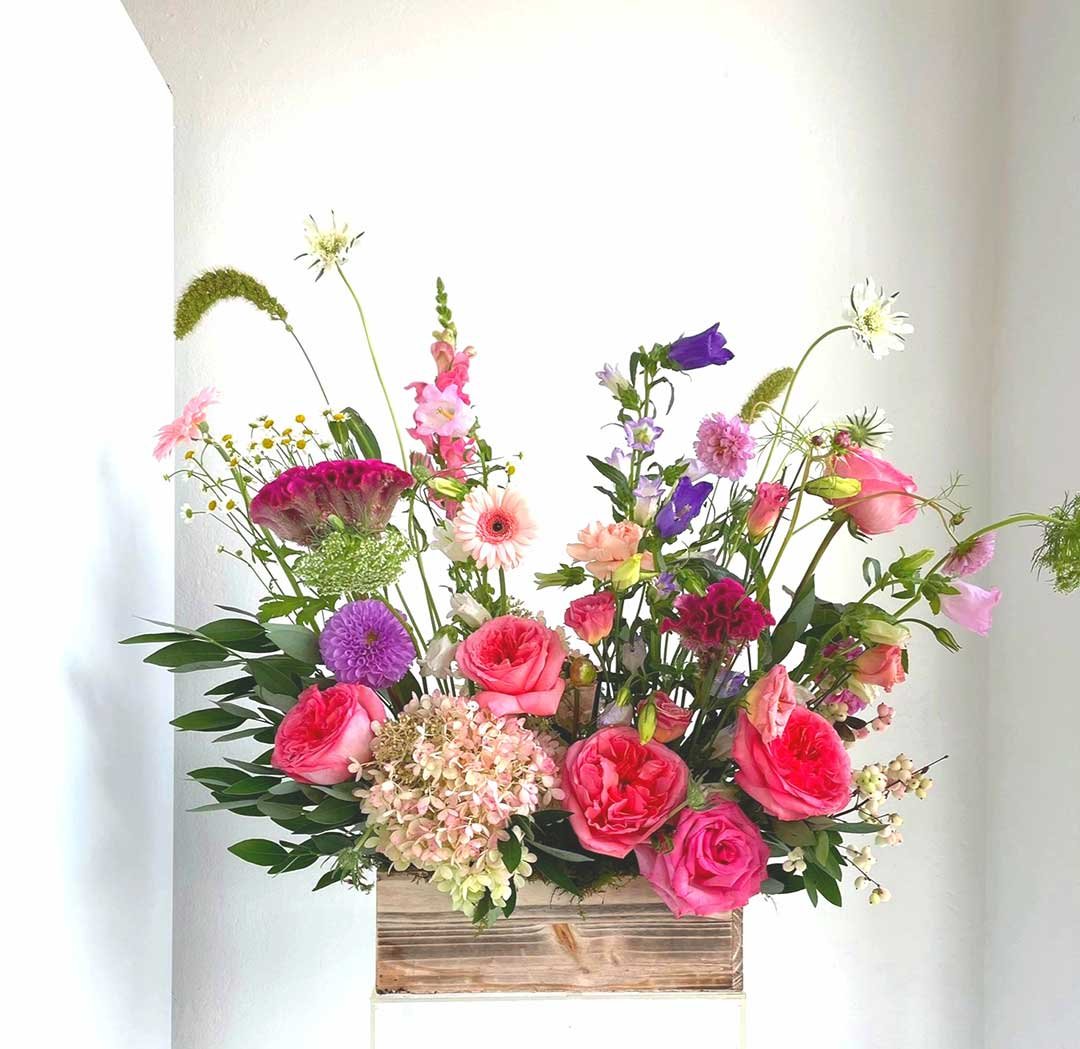 In project 3 students will design a large garden style arrangement in foam. We will discuss foam types, the benefit of armatures, pin frogs and chicken wire. Proper foam cutting and saturating techniques. Students will learn proper flower placement and creative method design. Photographs will be taken to benefit your social media or websites.
Our 2nd class is focused on wedding and events. We will discuss flower last ability, reviving hydrangeas and roses, delivery protocol and current wedding trends. In order to benefit your social media or websites, time will be allotted for photography.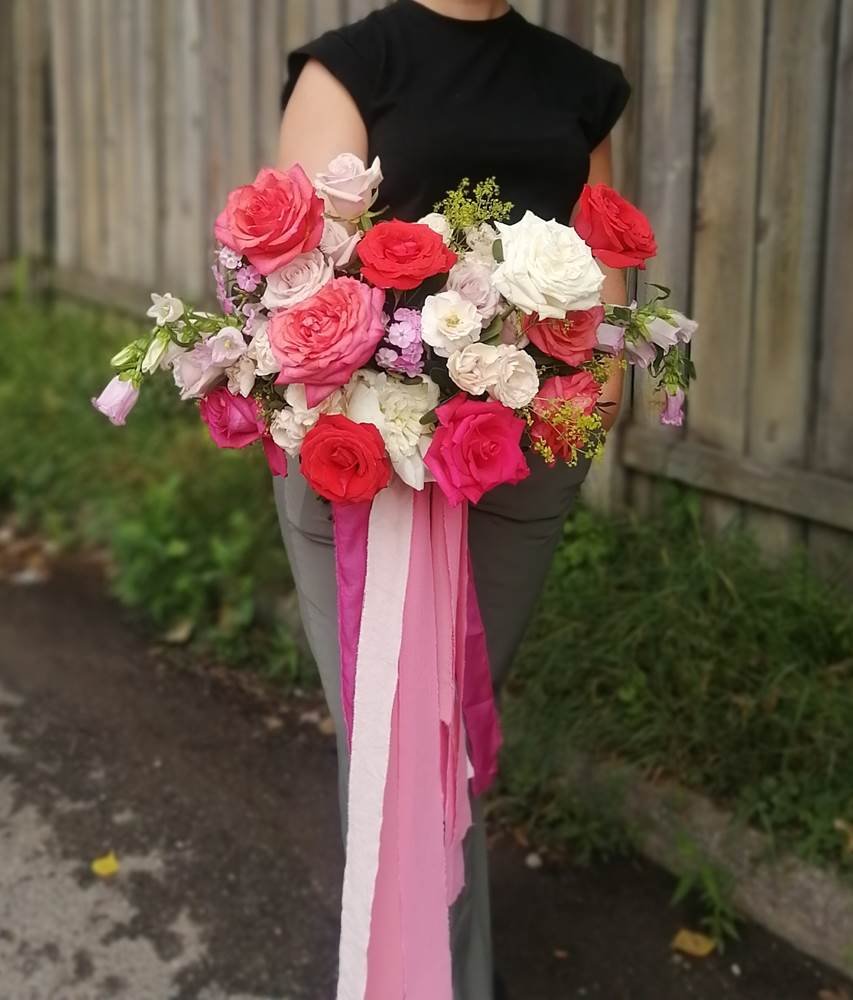 Students will make an impressive and abundant bridal bouquet using chicken wire as an armature. This technique is currently being used around the world and really guarantees great design success. This technique is a fantastic bouquet go-to technique to learn. Beautiful florals and foliage always provided.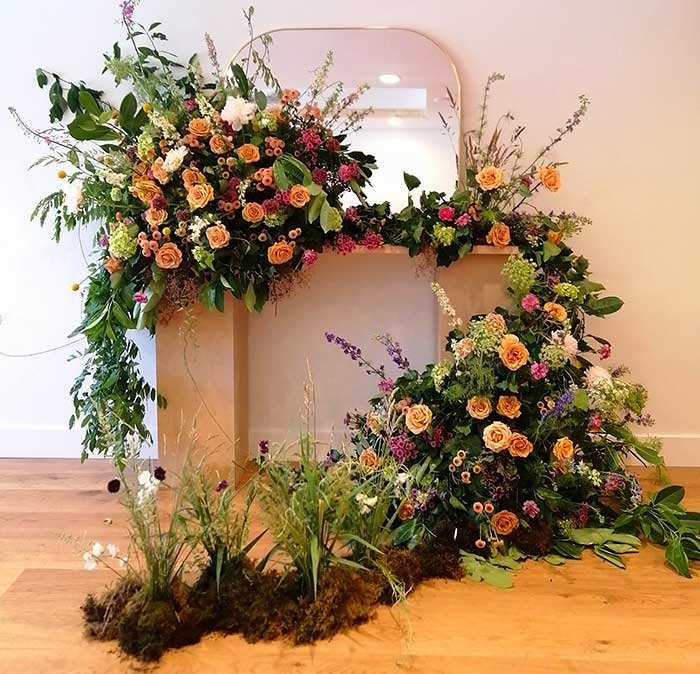 Mantle installations have become huge in our industry! Grand and gorg, bulging with lux florals, foliage and moss. At Toronto Flower School our students will have the opportunity to design a full fireplace, top and bottom. We have added this beauty for you so you may not only learn all the techniques involved, but have amazing pics for your websites and social media! We, as always, will discuss wholesale to retail markups, the amount of florals and foliages needed as well as delivery and set up fees.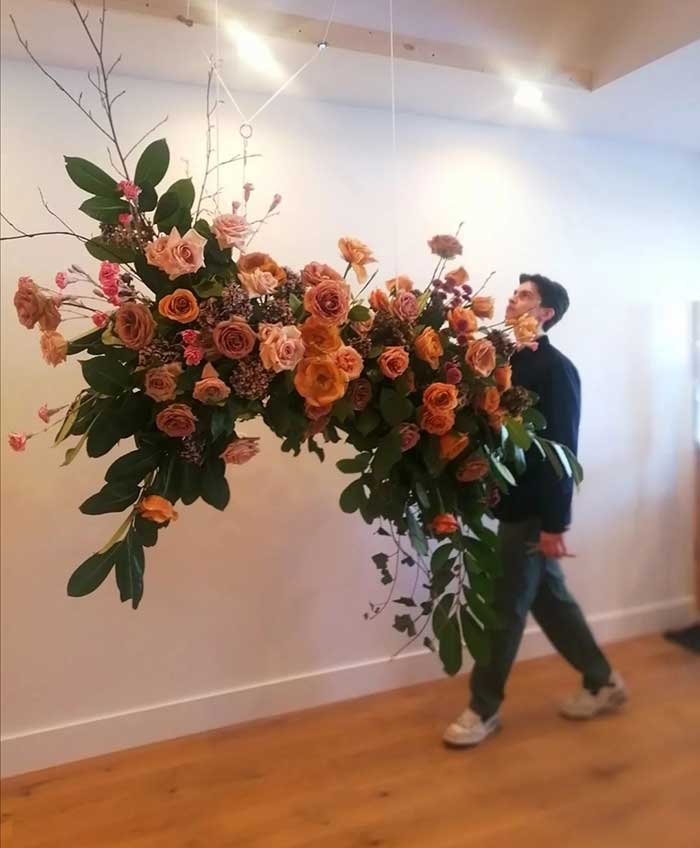 Whether we call it a hanging installment or a floral chandelier the final result is pure beauty. You have seen these dreamy hanging chandeliers dripping with decadent flowers everywhere and you will have the hands on opportunity to make one in this class! Wholesale to retail markups, flower and foliage quantities plus set up and delivery costs all discussed. Students will learn etiquette regarding site visits to the proper mechanics from base armature to cable, line and all other equipment needed for such an installation.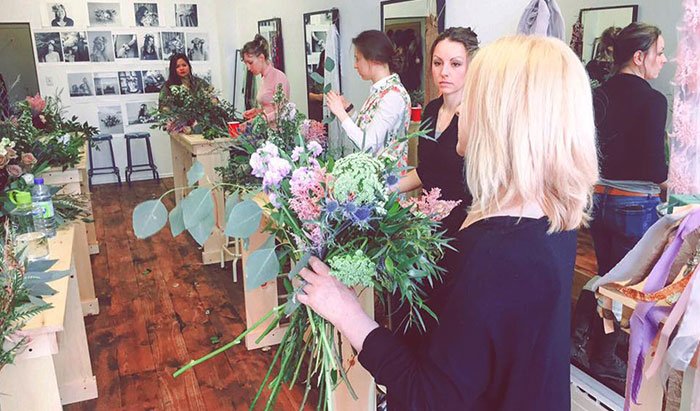 Your mentorship shall last as long as you require. Students may call, email or come by with any floristry related concerns. From wedding quotes to flower recognition, sustainability, seasonality or design help you are free and welcomed to access us. Students receive a TFS discount on all upcoming events and seminars.
TFS Fast Track Intensive 2023
September 10 & 17 from 12pm to 5pm
$1,700
Make this the year to fulfill your dreams and realize your destiny. A lifetime abundant with the beauty of flowers.
"I went into this class not knowing what to expect and I left with floral industry know-how AND a full time design job in Toronto. Mary not only teaches you all of her tricks of the trade but she genuinely cares that her students succeed. She recommended me for a job after only 2 classes, I went in and was able to wow them so much with what I had been taught that I was offered the job on the spot. This class quite literally changed my entire life and I couldn't be more grateful for it!" ~ Caitlin Adele