"Mary is a true gem, from whom I could not have been more privileged to learn. From the very first hour, it is immediately apparent that she sincerely cares about her students and their successes. She is immensely generous with her knowledge about the flower industry and the techniques you need to know to thrive within it, with her time and attention, kindness, and patience." ~ Francesca Teotico Howorth
start up with design compact essentials of contemporary design '23
Make this the year you realize your destiny, a lifetime abundant with the beauty of flowers
Toronto Flower School has had an overwhelming interest from students looking for a shorter, more compact and affordable floral design learning experience at Toronto Flower School.
We are now proud of offer the Toronto Flower School Start Up With Design Compact '23 essentials of contemporary design. We have selected 3 of our most essential designs to get you started on your floral journey and as well, every student will receive their own professional floral kit. This will be a fantastic day of learning with like minded people all the while working with lux fresh blooms of the minute!
We have added something very special to our Compact '23 class. Students will have the opportunity to meet with our designers at our preferred wholesaler location and do a wholesale tour. The designers will introduce you around to your need-to-know wholesalers while teaching you proper buying protocol.
The "wholesale crawl" will take place the first Monday after your course unless otherwise discussed among you and the designers. Remember, our classes are small enough to ensure the maximum learning experience for each student.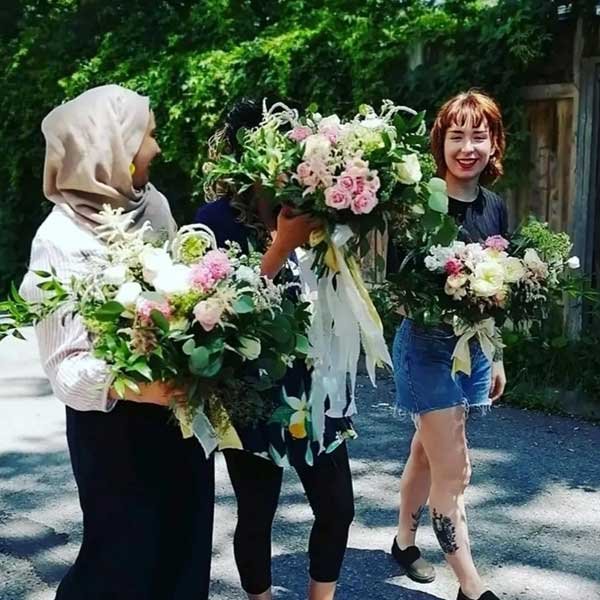 Overview of compact '23
essentials of contemporary design
Remember, ALL floral and hard goods will go home with you at the end of the class
Remember all Toronto Flower School students receive immediate wholesale access to our preferred wholesalers from your first class on. All Toronto Flower School students receive a mentorship with all Toronto Flower School staff to help you navigate your future with flowers.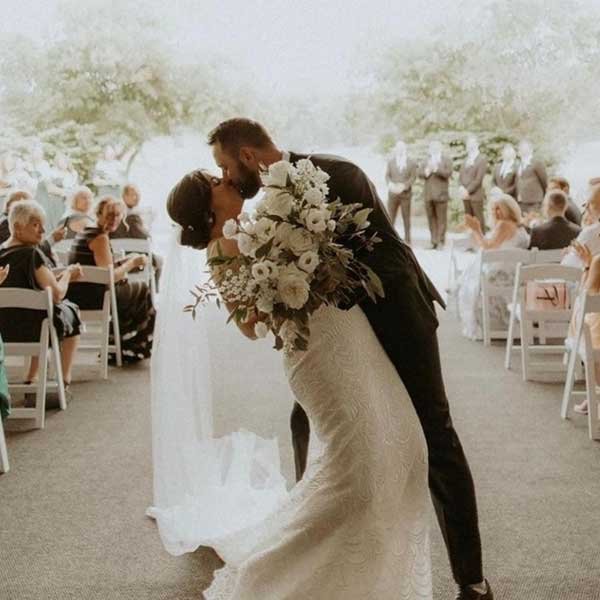 Project 1 students will learn to create a lux garden style bouquet of stunning blooms. Attention to fresh amateur techniques, the spiral tap method and design style and concept will be of focus. Current taping and ribboning techniques, with proper short stem cutting techniques will be taught.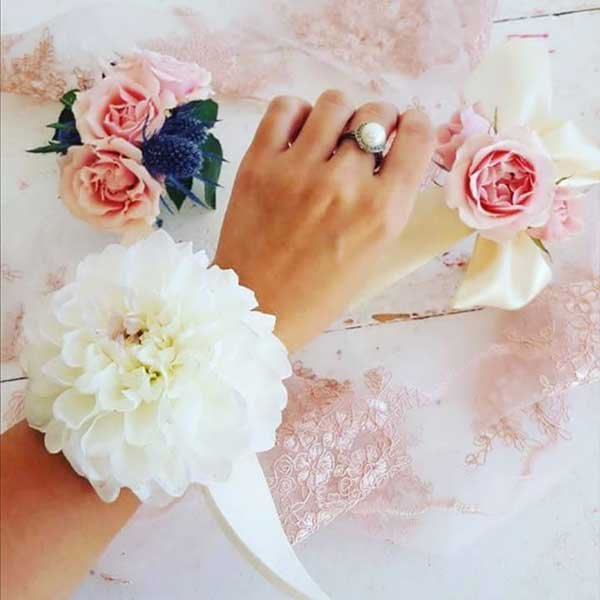 In Project 2 students make stunning corsages and boutonnieres as body jewellery. Students will learn the new modern style of creating body jewellery with flowers. No more hours of wiring and taping but enjoyable techniques with lovely blooms fitted to a grand occasion.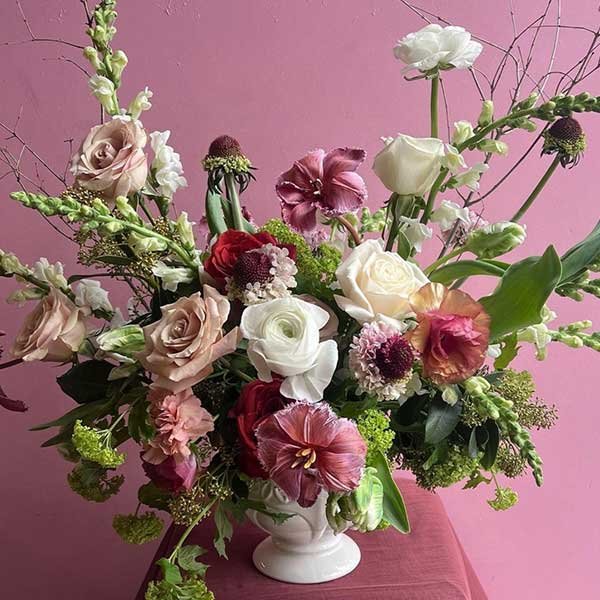 For project 3 students will design a luxurious garden style centrepiece designed in chicken wire. Students will learn the technique of designing in the very current chicken wire amateur. Attention to technique and design style will be the focus as well as floral selection and last ability of blooms.
Students will meet at our wholesaler's location in Mississauga and visit our different preferred wholesalers. From florals and supplies to vases, containers and dried flowers and ribbon, you will be in awe of the selection and all you will learn on site.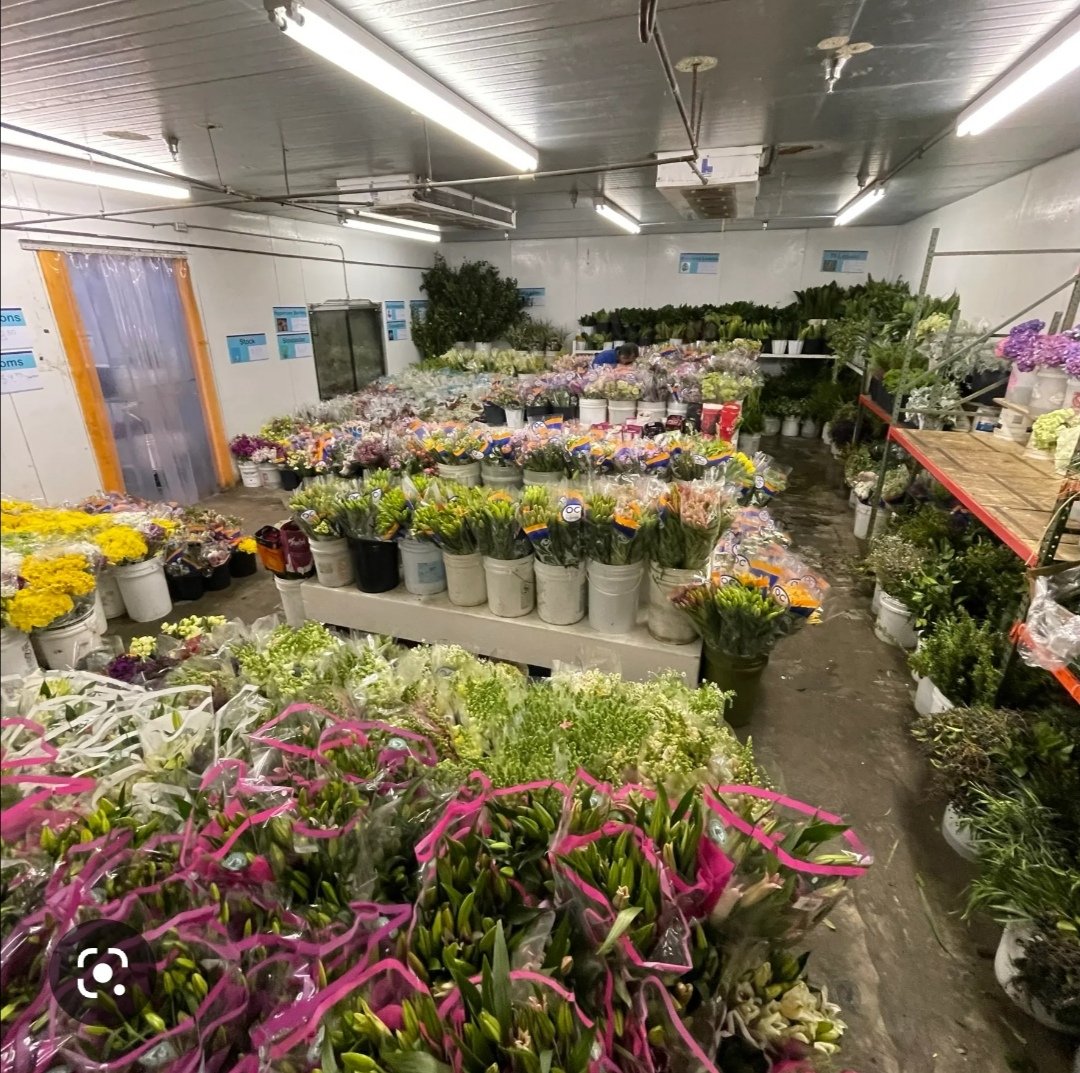 Start Up with Design Compact Essentials of Contemporary Design '23
Only $1,500
Register today by completing the form below.
SOLD OUT - ALL SPACES FULL
"I went into this class not knowing what to expect and I left with floral industry know-how AND a full time design job in Toronto. Mary not only teaches you all of her tricks of the trade but she genuinely cares that her students succeed. She recommended me for a job after only 2 classes, I went in and was able to wow them so much with what I had been taught that I was offered the job on the spot. This class quite literally changed my entire life and I couldn't be more grateful for it!" ~ Caitlin Adele